Pepperoni Pizza Sliders:
Pepperoni Pizza Sliders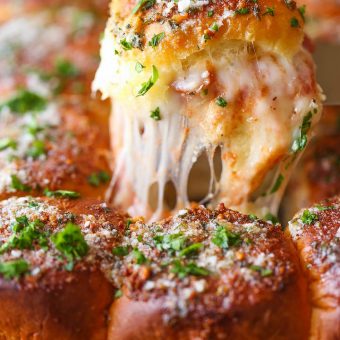 These are a guaranteed hit with family and friends! So buttery, so cheesy and so easy to make (can be made ahead of time too!).
Ingredients:
1 (12-count) package KING'S HAWAIIAN Original Hawaiian Sweet Dinner Rolls, halved lengthwise
1 1/2 cups pizza sauce
1 (5-ounce) package mini pepperonis
2 cups shredded mozzarella cheese
For the garlic butter topping
1/4 cup unsalted butter, melted
2 tablespoons freshly grated Parmesan
2 tablespoons chopped fresh parsley leaves
3/4 teaspoon garlic powder
1/2 teaspoon dried oregano
1/4 teaspoon salt
Directions:
Preheat oven to 400 degrees F. Lightly oil a baking sheet or coat with nonstick spray.

To make the garlic butter topping, whisk together butter, Parmesan, parsley, garlic powder, oregano and salt in a small bowl; set aside.

Place bottom half of dinner rolls onto the prepared baking sheet. Top with pizza sauce, mini pepperonis, cheese and top of dinner rolls. Brush with half of the garlic butter topping.

Place into oven and bake until the cheese has melted, about 10-12 minutes.

Serve immediately, brushed with remaining garlic butter topping.
Nutrition Facts
Serving Size
Servings Per Container 12
---
Amount Per Serving
Calories 229.5
Calories from Fat 116.1
% Daily Value*
Total Carbohydrate 19.1g
6%
---
*Percent Daily Values are based on a 2,000 calorie diet. Your daily values may be higher or lower depending on your calorie needs.
For this and more Recipes check back often to www.TheGypsyHomestead.com and on Facebook at: www.Facebook.com/TheGypsyHomestead on Twitter at www.Twitter.com/Gypsy_Homestead and Pinterest at www.Pinterest.com/GypsyHomestead on Instagram at www.Instagram.com/The_Gypsy_Homestead and You can find all my Essential Oils at www.MyDoterra.com/GypsyMoon