Jalapeno Popper Grilled Cheese:
Jalapeño Popper Grilled Cheese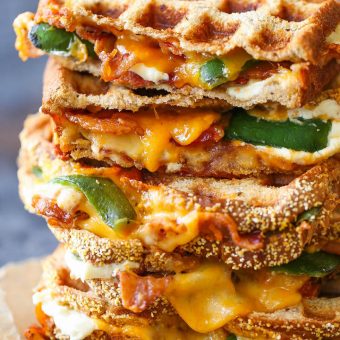 Everyone's favorite jalapeño poppers made into the most epic grilled cheese. Made in a waffle maker! EASY and no mess!
Ingredients:
4 jalapeños, trimmed and halved lengthwise
8 slices bacon
8 slices whole wheat bread
4 tablespoons cream cheese, softened
2 cups shredded cheddar cheese
Directions:
Preheat oven to broil.

Line a baking sheet with parchment paper. Place jalapeños onto the prepared baking sheet, cut side down. Place into oven and roast just until the skin has blackened, about 6-8 minutes. Remove from oven and let cool before peeling off the skin.

Heat a large skillet over medium high heat. Add bacon and cook until brown and crispy, about 6-8 minutes. Transfer to a paper towel-lined plate.

Preheat a waffle iron to medium-high heat. Lightly oil the top and bottom of the waffle iron or coat with nonstick spray.

With a butter knife, spread cream cheese on one side of each slice of bread. Working in batches, place slices, cream cheese side up, into the waffle iron. Top with jalapeños, bacon, cheese and remaining bread slices, cream cheese side down. Close gently and cook until golden brown and crisp, about 3-4 minutes.

Serve immediately.
also follow us on Facebook at www.Facebook.com/TheGypsyHomestead.com on Twitter at www.Twitter.com/Gypsy_Homestead on Pinterest at www.Pinterest.com/GypsyHomestead and Instagram at www.Instagram.com/The_Gypsy_Homestead